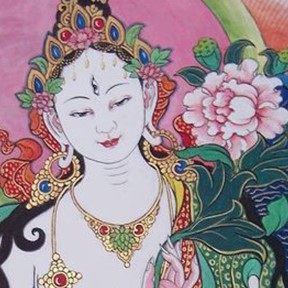 White Tara Practice
WHITE TARA Practice
2nd and 4th Tuesdays of every month - 7:00 PM
All Welcome!
September 8th and 22nd
October 13th and 27th
November 10th and 24th
December 8th and 22nd
Please join us on the 2nd and 4th Tuesday at 7:00 PM for the practice of White Tara. It is a powerful, short Buddhist practice that is helpful for overcoming obstacles and offers soothing energy for these difficult times. This is a group practice for everyone. The practice takes about half an hour and will be scrolled on screen. The mantra is repeated holding a heartfelt wish to relieve suffering and stress in the world.
White Tara, one of the most famous bodhisattvas of compassion in Tibetan Buddhism, emanated from the tears of the compassionate Avalokiteshvara. Peaceful White Tara is said to witness the suffering of beings through her seven eyes and she soothes their fears, calms their anguish, heals their suffering—both individual and communal—and extends their lives.