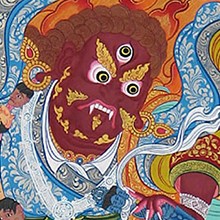 VIRTUAL SADHANA of MAHAMUDRA – NEW MOON
Suggested Donations link / All Welcome
Please note it is virtual
The words of the sadhana will be scrolled on the screen
The Sadhana of Mahamudra was received by the Vidyadhara Chögyam Trungpa Rinpoche, the founder of Shambhala, while he was on retreat in Taktsang, Bhutan in 1968. This sadhana is a Vajrayana practice. It can be done in community by all on the new moon and the full moon when energies are drastically shifting, and both craziness and wisdom can manifest. It is said that the practice contains profound elements of both the Nyingma and the Kagyu lineages.
According to the teachings, we all possess innate goodness. However we can fall into a tendency to use spirituality to create a "spiritual" facade. This tendency, known as "spiritual materialism", can alienate us from our genuine nature. The central theme of the sadhana is to cut through spiritual materialism and discover our innate wisdom. Because it was meant for this time, its potency is particularly strong.
The practice lasts a little over an hour and involves recitation of the text and periods of silent meditation. The vivid imagery may at first seem strange, so we encourage those new to this practice to simply experience how the sadhana practice feels. Simply recite the words and relax into the atmosphere that it creates. Questions will be welcomed after the practice and a very brief explanation of how to do the practice will be offered before it begins.
Please join us.
There is no charge for the evening. Donations are always welcome!
Join Zoom Meeting
Meeting ID: 815 5630 4437
Passcode: 369454

To join by phone dial
+1 346 248 7799 US