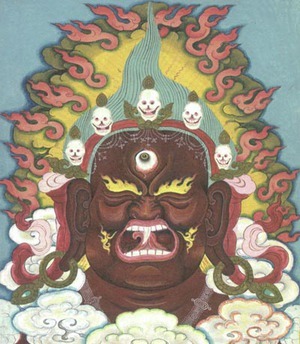 Mamo Chants: Clearing Out Our Karma for a Fresh Start
The year-end Mamo Chant practice is a means of clearing up the environmental, personal and social negativity of the whole year. The practice is an elaborate protector offering, traditionally recited from the 20th through the 29th days of the last lunar month of the Tibetan year.
It leads up to Shambhala Day, which this year is Monday, February 24, 2020. Shambhala Day marks the beginning of a new lunar cycle. The day before Shambhala Day is considered neutral and is a traditional time to clean and refresh one's home and shrines in preparation for the coming year.
The Mamo Chant invokes feminine protectors during this period which is said to be fraught with obstacles. It is a good time to practice and tune into the protector principle of awareness and go into the New Year with a fresh and open sacred outlook. All students are encouraged to practice as much as possible during this period.
More information about this practice and protector principle will be provided at the start of the practice.
Please note: On February 19, we'll be starting mamo chants at 6:00 so that we can finish in time for our regular public sitting.