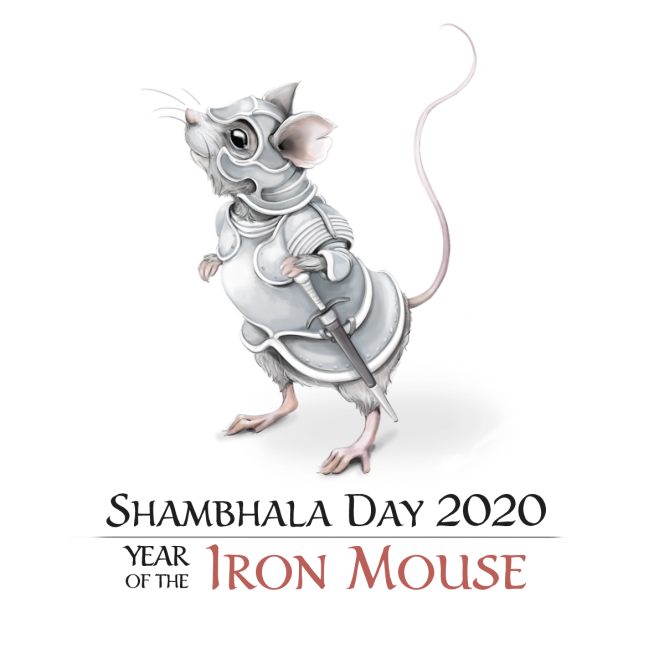 SHAMBHALA DAY
Monday, February 24, 2020, 7:30 AM to Lunch at Noon
Come for all or some. All welcome!
Please join us as we celebrate the start of the Year of the Iron Mouse with practice, a continental breakfast and conversation, a broadcast from Shambhala International and the Sadhana of Kindness.
Shambhala Day represents one of the most important traditions of Shambhala Buddhism. Based on the traditional Tibetan New Year's celebration of Losar, the day is calculated astrologically according to the Tibetan lunar calendar, and changes every year to coincide with the annual lunar cycles.
Shambhala Day is a time for us to express the wealth and richness of our spiritual and cultural heritage.
The Shambhala international community as well as our world has been experiencing an incredibly challenging time. It feels important to recognize that many of us are in different places with our feelings and practice. It is our hope that we can be there for each other, amidst these differences, to practice, and be in community together. For Shambhala Day, Shambhala International hopes to create a broadcast that will feel inclusive and celebrate what we have in common.
Schedule for the Day, Monday, February 24th
7:30 AM - 8:30 AM Meditation
8:30 AM - 9:30 AM Continental breakfast
9:30 AM - 10:30 AM Sadhana of Kindness (all are welcome)
10:30 AM - 11:00 AM Community Conversations
11:00 AM - 12:00 PM Live Broadcast from Shambhala International Community
12:00 Lunch out with the community
No cost, but donations always welcome!
You may come to one or all of the scheduled events, but registering helps us plan and make lunch reservations!
Questions: [email protected]