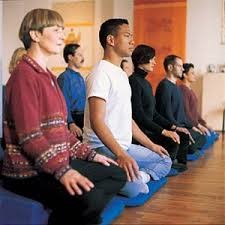 VIRTUAL DAYLONG PRACTICE RETREAT (Nyinthun)
Suggested Donation: $10
All welcome!

In the Shambhala Buddhist social dharma, basic meditation is a way for us to develop friendliness towards ourselves through returning to simplicity and being fully present to the play of our inner world.
Daylong practice retreat or Nyinthun ("Nyin" comes from the Tibetan word meaning day and "thun" means session) is a powerful, grounding format for meditation, consisting of four periods of practice over 12 hours.
Breakfast, Lunch and Dinner will be BYO
Sitting practice will take place in our lovely, well-lit Meditation Hall for 20 to 35 minute periods, interspersed with mindful walking practice. Participants are welcome to cycle in and out of the sitting sessions as their schedule permits. All are welcome to join this day of meditation.

"When people say that meditation makes them calm, they are often referring to this stability of the mind. A stable mind creates the foundation for a happier and more contented person." -- Sakyong Mipham
Schedule (8 hours over 4 sessions):
7:00 AM - 8:00 AM : Opening chants, Session 1
8:00 AM - 9:00 AM : BYO breakfast break
9:00 AM - 12:00 PM : Session 2
12:00 PM – 12:30 PM : BYO lunch break
12.30 PM – 1:30 PM : Dharma Conversation Group
1:30 PM - 3:30 PM : Session 3a
3:30 PM - 4:00 PM : Tea snack (ASMC provided)
4:00 PM - 5:00 PM : Session 3b, Protector chants
5:00 PM - 6:00 PM : BYO dinner break
6:00 PM - 7:00 PM : Session 4, closing chants
Sunday sitting will continue as usual from 10:00 AM - 12:00 PM along with the Nyinthun attendees.

Meditation instruction will be offered at 10:00 AM. Otherwise, sitting sessions will be silent and unguided.
PLEASE let us know you'll be joining us by registering at: Albuquerque.shambhala.org so we can prepare.
If you have questions about the event, please contact: